Quality since more than 75 years
Reliability
Since its creation in 1947, the Montréal network has had no interruption in service—even during major climatic events such as the ice storm that paralysed Québec in January 1998!
Support and optimisation
Maintenance and support team available 24/7, year round
Real-time video surveillance
Speedy intervention and traceability
Maximum flexibility through energy mix—without any consumer equipment modification
Steam quality certified for building humidification
Decreased risk
Production centralization: risks are immediately identified, diagnosed and dealt with
A full-time team of dedicated experts
Quality control
Continuous monitoring of water quality (manual controls and on-line analyzers) ensures equipment reliability.
Compliance with the highest standards for legionella prevention: Énergir CCU surpasses the criteria established in the January 16, 2013 draft regulation.
A safe energy
24/7/365 monitoring
Visual inspection of the network twice a day
Continuous preventive maintenance
100% autonomous
The plant uses two 4,6 MW generators to ensure total autonomy in case of power failure.
Regular updating of the emergency plan
The careful planning of emergency procedures sets the stage for effective and successful intervention.
In-depth knowledge and regular updating of Énergir urban cooling and heating's emergency plan are an integral part of our work process.
We invest in the belief that our experience, expertise and ability to find solutions serve all aspects of our market.
Continuing professional development
By devoting an average of 2% of labor costs to employee training, Énergir urban cooling and heating ensures that all its operational teams hold certifications that meet or exceed the criteria for energy network operation.
Our absolute reliability, since 1947, is the result of meticulous preventive maintenance and timely renewal of our equipment.
Sustainable and responsible development
As time goes by, we are constantly implementing new technologies to improve the environmental performance of our networks.
Replacement of old boilers with new, more efficient units
Installation of solar panels to pre-heat the air prior to combustion
Closed-loop networks to minimize water consumption
Elimination of fuel oil as primary source of combustion
"These improvements have enabled us to reduce CO2 emissions by 27% between 2005 and 2011, the equivalent of removing over 16,000 cars from the road."*

Energy efficiency
Adapting production to demand variations
85% of the steam is recovered as condensate (an additional 12% is used for the humidification of our clients' buildings).
Up to 20% energy cost savings for customers
Advanced air emission treatment technologies for large units
In harmony with the environment
Fight against visual pollution: elimination of roof equipment
Fight against smog and particulate pollution
Fight against traffic: buried networks and underground maintenance
Energy policy
As part of its continuous improvement plan and in compliance with the City of Montreal's 2020-2030 Climate Plan, Énergir CCU has implemented an energy management system and obtained BNQ ISO-50001 certification.
The ISO 50001 standard for energy management systems is a voluntary, internationally recognized standard. It provides a structured framework for organizations to manage their energy consumption, improve production efficiency and reduce greenhouse gas (GHG) emissions. This approach is based on behavioural and operational changes at all levels of an organization, and it adds value for both internal and external stakeholders.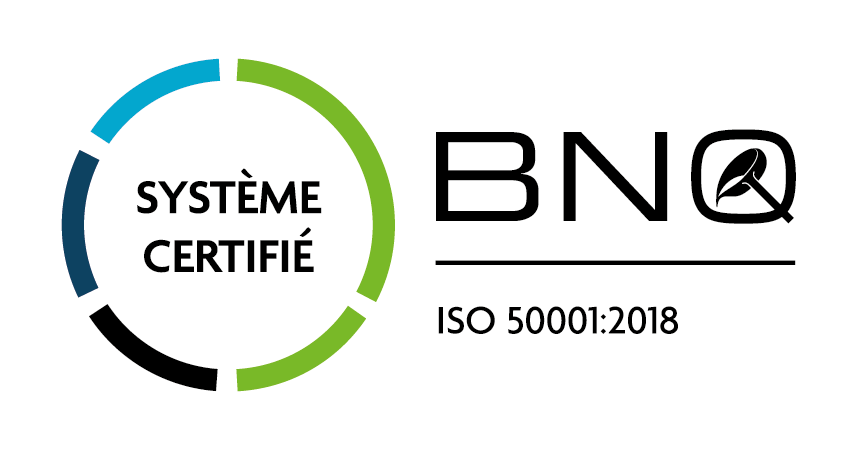 Have a project? Need more information?
Contact our team for answers.