Our mission
Making urban energy networks an integral part of the environmental policy of Canadian cities and industries, always taking into account the overall economic situation and certifying the quality, availability and cost of thermal energy.
Providing advice and guidance for the operation and maintenance of thermal facilities to improve performance and contribute to energy and environmental efficiency.
Strengthening and securing all performance aspects: energy and environment, operation, society, information systems, and workplace safety.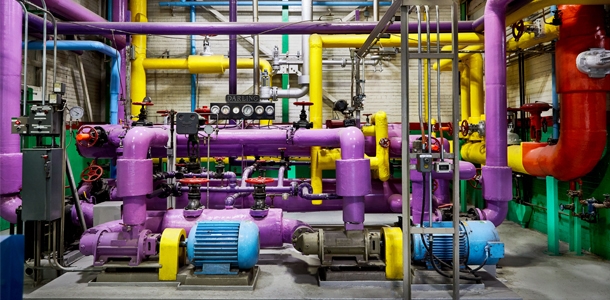 From CCUM to Énergir urban heating and cooling
The network was initially created to meet Canadian National's thermal requirements; today, it provides services to over one third of Montreal's downtown core. It has been operating the Montreal Energy Plant since its creation in 1947. Énergir urban heating and cooling provides heating and air conditioning to a large portion of Montreal's downtown.
1947 to 2000 - Evolution from coal to natural gas
1947: CN builds thermal power plant
2000: CCUM begins supplying hot and chilled water via the new Cité Multimédia neighbourhood
2000 to 2020 - New grid and energy efficiency
2010: Invested over $5 million to minimize CO2 emissions (#2 gas boiler)
2013: CCUM installs thermal solar panels
2015: Invested over $3M for a condensation recuperator
2019: Cooling of the ÉTS and future Calcul Québec servers
2019: MU, a charity that has been transforming Montreal's public spaces since 2007 with community-based murals, creates the mural that now adorns Énergir CCU's building. This artistic, community and environmental project showcases the building and its architectural features while respecting Montreal's heritage. Working side by side with local stakeholders.
2020: Renewable natural gas supply; next-generation boiler room heat recovery project
2020 à 2030​ - New directions and decarbonization
Several promising initiatives we're working on
Cooling heat recovery
Renewable energies
Low-temperature networks
Beyond Énergir CCU
2021: Introduction of emergency power supply service
2022: ISO 50001 certification; energy policy
Key facts and figures
Creation of CCUM: 1947
Power: 145 MW for heat, 18.4 MW for cold, 2 MW for electricity (Backup energy)
Second largest network in Canada
1.8 million m² — the equivalent of a city of 30,000 people*
* based on 90 m2/housing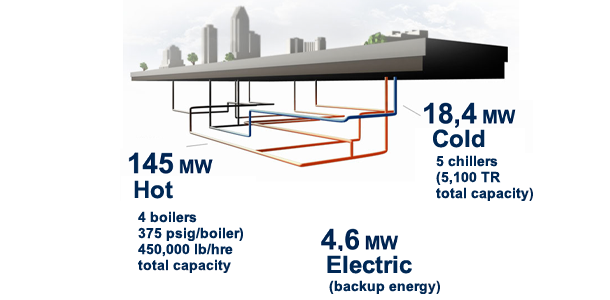 Énergir urban heating and cooling is proud to recognize the talents of its employees and to provide them with safe and secure work environments. By paying particular attention to safety and by implementing a wide variety of advanced procedures and techniques, it provides an attractive professional environment.
Stationary engineers are of class 1 or 2 for steam and class A or B for cooling. All of our electricians are skilled technicians.
Management of operations is executed by a plant manager and a deputy plant manager, each of whom have over 30 years of experience.
Our operation team
Rock Marois, General Manager
Mike Murphy, Plant Manager
Robin Bédard, Deputy Plant Manager
Claude Cantin, Controller
Daniel Bienvenu, Manager, Sales and Development
Have a project? Need more information?
Contact our team for answers.

Contact us